I come from (very) rural Northumberland. Although my dad was a teacher, there's a lot of farming and game-keeping in my family background, and many casual jobs in my younger days were on farms – from de-horning calves to gathering up the round straw bales during the harvest. My grandfather was a beef and sheep farmer, and my dad's brother setup and ran a large rare breeds open farm for the National Trust, so I have great affection for traditional farm breeds and the job they can do acting as proxies for extinct native wild herbivores.
I live in a small village in rural Nidderdale, just northwest of Harrogate, with my wife Kathy (primary school teacher) and sons Sam (just graduating from York Uni in Film & TV Production), Jack (mid-way through A-levels), and daughter Laura (studying Filmmaking at the Northern Film School at Leeds Beckett Uni). Oh, and my border terrier, Tiggy.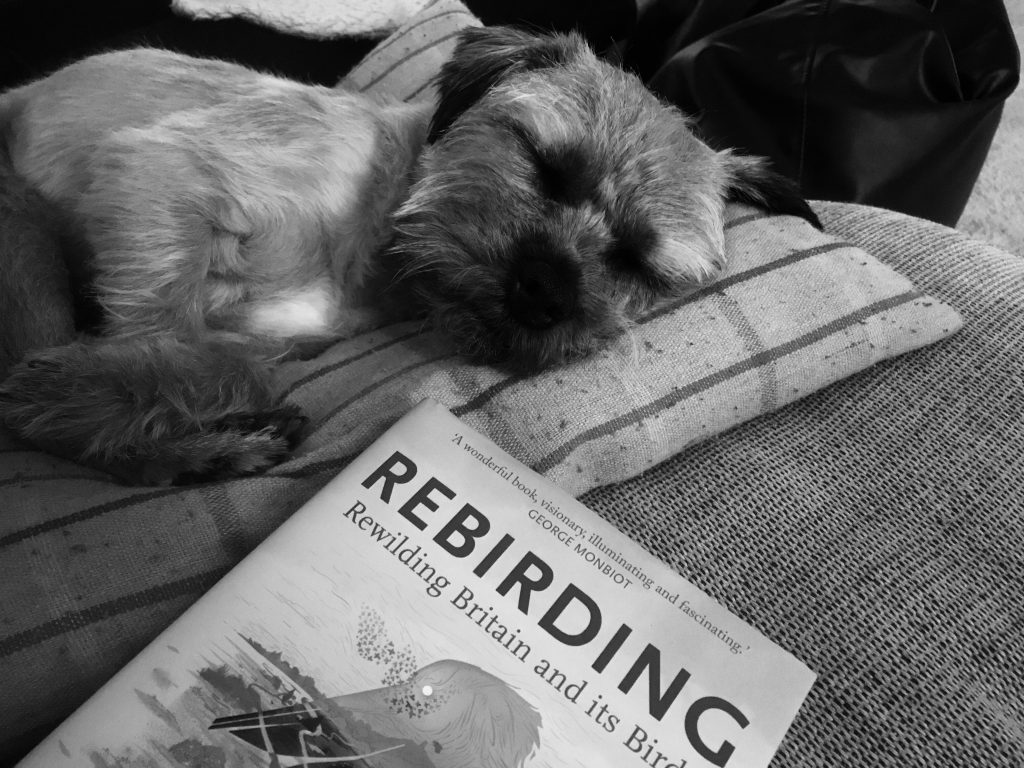 My interest in nature is entirely derived from my rural background. I studied physical geography, which is a perfect combination of all of the natural sciences, at the Universities of Leicester and Dublin, followed by an MSc in geography at Leicester. Since then, I have worked in software companies that specialise in digital mapping and geographic information.

I have kept studying from time to time, and my desire to work more closely in support of nature's restoration meant that I spent many of my evenings and weekends during COVID-19 "lockdown" studying a 20-credit module at MSc level titled "Biodiversity and Ecosystem Services" from Bournemouth University's MSc in Green Economy.
My final project used QGIS to map habitats (more or less a Phase 1 Habitat Survey/PEA), biodiversity, habitat condition, species richness, natural capital, ecosystem service flows, and human uses of a site, and to present – geographically – management recommendations for increasing biodiversity and ecosystem services.
In June, I got the best result and feedback I have ever had across various academic courses over the years…
"This is simply an exceptional piece of work. Very thorough and detailed throughout, and supported by an outstanding set of maps and illustrations…. Overall this was a truly exceptional submission that communicated not only outstanding professional skills, but a deep understanding of the concepts and an ability to explore them using spatial data. The student should be congratulated on a really first class piece of work, which was one of the best I have seen in nearly ten years teaching on this course."
Of course, as geographer, I love to travel and see things. I've travelled extensively throughout Europe, especially France, Finland, Scandinavia, and also North America. I've had some great wildlife experiences just by getting out and hiking, from kayaks, and heading onto open rangeland on horseback. I've seen wolves, bears, martens, whales, sharks, bee eaters, beavers, and seem to have a particular ability to stumble upon moose.
My favourite part of the world is the Hebrides, having travelled widely throughout the Western Isles and taking the family for a week every Easter to Skye, which had made a first impression on me aged 18 on an A-level field week in 1987.

As you can see, this page is part of a blog that I write and publish using WordPress. The blog is enjoyed by a relatively small band of followers and I must confess that I have no real clue how to bust through the magic 54 followers level that I currently have on Twitter. A lone voice adrift on a vast and choppy sea.
It started with a written report of a Royal Geographical Society evening in Pateley Bridge last year about rewilding in the Dales. Myself and another Fellow of the RGS were due to run a follow-up this June before events got the better of us. Perhaps I can facilitate some kind of link between our group and the Royal Geographical Society, of which I am a Fellow.
I have done species surveys for Nidderdale AONB's "Wild Watch" project, and also do tree planting for Make It Wild, who have a private nature reserve they are developing/wilding at Summerbridge and one at Kirk Hammerton.
My interest in rewilding spans the full scale from small improvements to habitats and behaviours, through to landscape scale regeneration, both assisted and by natural processes. I cringe at our industrial landscape and some of the British attitudes towards wildlife, nature, and what is considered natural and acceptable.
I'm saddened by nature's decline and overall impoverishment in this country. I have seen so much better in so many other countries. And only in the UK is there a fear of beavers and lynx!
I do think that there is growing demand for nature's recovery and perhaps the new Environment and Agriculture Bills will help. I think landowners, especially farmers, are the key, and I think economic opportunities are what will drive change even though nature's intrinsic value makes it worth improving regardless. Hence my interest in natural capital and ecosystem services.
What could I bring to the group?

Well, I have strong project management and consulting skills, including consulting practice management, should we ever need them. And a lot of sales and client management experience. I'm also famous for being highly organised and quite detailed in my work.
Although not hands-on as much in recent years, I have mapping and IT capabilities, particularly around geographic information analysis. I have just done an extensive university assignment mapping and assessing ecosystem services for a site locally.
I have enough technical capabilities to build things like this blog site, set up and administer email, and all the things you'd expect a home-worker in the tech sector to be able to do. It's not perfect, and I have spent many an evening trying to recover from inadvertent actions and even deletions of my entire site.
Although not an accredited ecologist, and although rubbish at identifying plants and invertebrates, I have a good understanding of biodiversity, natural capital, and ecosystem services.
I am looking forward to helping this network develop with you all. I think one of the things we, and all rewilding champions will have to do, and soon, is to gather, reference, or create content with a consistent message that "rewilding" encompasses many elements along a very wide continuum. It can bring significant economic opportunities as well as wider global benefits. From the RGS rewilding event last year it was clear how much fear and distrust there is from many landowners and interests, and perhaps the media has inadvertently (or sometimes purposefully) focussed on some of the more radical and militant parts of the rewilding spectrum.
The book I recommend the most is Benedict MacDonald's Rebirding.
If anyone wants to connect with me via LinkedIn, I can be found here: https://www.linkedin.com/in/johnhartshorn/